From the horrors of sixteenth century Italian castles to twenty-first century plagues, from the French Revolution to the liberation of Libya, Tyler R. Tichelaar takes readers on far more than a journey through literary history. The Gothic Wanderer is an exploration of man's deepest fears, his efforts to rise above them for the last two centuries, and how he may be on the brink finally of succeeding. Whether it's seeking immortal life, the fabulous philosopher's stone that will change lead into gold, or human blood as a vampire, or coping with more common "transgressions" like being a woman in a patriarchal society, being a Jew in a Christian land, or simply being addicted to gambling, the Gothic wanderer's journey toward damnation or redemption is never dull and always enlightening.
Tichelaar examines the figure of the Gothic wanderer in such well-known Gothic novels as The Mysteries of Udolpho, Frankenstein, and Dracula, as well as lesser known works like Fanny Burney's The Wanderer, Mary Shelley's The Last Man, and Edward Bulwer-Lytton's Zanoni. He also finds surprising Gothic elements in classics like Dickens' A Tale of Two Cities and Edgar Rice Burroughs' Tarzan of the Apes. From Matthew Lewis' The Monk to Stephenie Meyer's Twilight, Tichelaar explores a literary tradition whose characters reflect our greatest fears and deepest hopes. Readers will find here the revelation that not only are we all Gothic wanderers—but we are so only by our own choosing.
Listen to Tyler read the Introduction to The Gothic Wanderer.
Reviews and Testimonials for The Gothic Wanderer:
"This book makes me realize we are all Gothic wanderers. We look for meaning and ethics in life as we plod our way through a fantastic landscape peopled by strangers and strange things. As Tyler Tichelaar shows us, when we mature, we move from fearing the outcasts among us to recognizing ourselves in them. The Gothic Wanderer shows us the importance of its title figure in helping us to see our own imperfections and our own sometimes contradictory yearnings to be both unique and yet a part of a society. The reader is in for an insightful treat."
— Diana DeLuca, Ph.D. and author of Extraordinary Things
"Make no mistake about it, The Gothic Wanderer is an important, well researched and comprehensive treatise on some of the world's finest literature. This book is never dull and always enlightening. It is recommended as a useful addition to the library of those studying the nature and mystery of man."
— Michael Willey, author of Ojisan Zanoni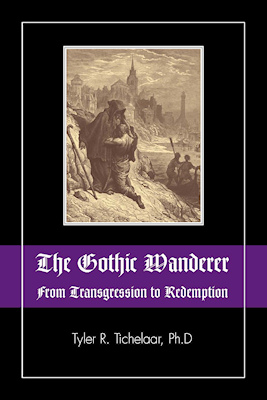 Look Inside the Book
6"x9" / approx 315 pages
Please Note:
We do not ship books outside the United States.
Please visit your local online retailer.
Get the hard cover edition of
The Gothic Wanderer
exclusively at Amazon
eBooks
Kindle Edition $9.95, Nook Book $9.95,
Kobo $9.95 & Google Play $8.95
Hardcover: ISBN-13: 978-1-61599-139-6,
Paperback: ISBN-13: 978-1-61599-138-9
eBook: eISBN: 978-1-61599-140-2